"3…2…1…LEGO!" was the rallying cry heard repeatedly at the Houston Convention Center this past weekend, where over 30,000 people gathered for the 2017 FIRST Lego World Championship. Energetic cheers, dancing, and music filled the air throughout the 5 days of vibrant and friendly competition. Cambridge has had an incredible inaugural year in the FIRST Lego League, fielding 2 teams: Team Abrick Cadabrick who advanced to the Houston World Championship and Team Griffin Warriors who advanced to the European Open Championship. FLL teams compete in 4 areas: robotic design, robotic game, scientific project, and values-driven teamwork.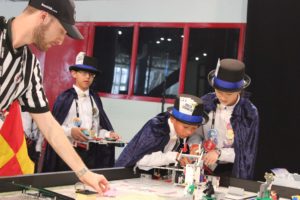 Competing against teams from Jordan to Nigeria to China, Team Abrick Cadabrick won 3rd place for their scientific project research at the Houston World Championship.
Their presentation skills, rooted in memory work and honed through hours of practice and coaching, showcased their invention of a water collector that captures fog and dew to feed drought-stricken birds and bees. The team fielded questions from 12 judges in multiple interviews, testing and growing the endurance, creativity, knowledge, and abilities of each team member. It was a joy to watch the team engage in a shared commitment to each other in both failure and success; one panel of judges wrote on their scorecard: "Great job encouraging one another. Refreshing positive attitudes."
Both teams are so thankful for the support of the Cambridge community, for the leadership of Olivia Tian, Emily Shi, Melissa Mayne, and Aimee Edmonds who launched the program, and for the intrepid 14 students and their parents who invested 9 months of research, problem-solving, and meetings and brought the Griffin spirit to (literally) the world. Please cheer on Cambridge's second team: Team Griffin Warriors, when they travel to Denmark in late May to compete at the 2017 FIRST European Open Championship. These students and their families have been on a thrilling and growth-filled journey!
Soli Deo Gloria!