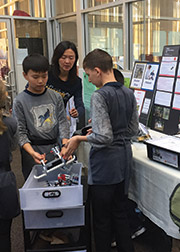 This year, Cambridge fielded 2 science/robotics teams for the popular First Lego League (FLL).
FLL is a competition that celebrates robotics, teamwork, presentation skills, and scientific innovation. Approximately 24,000 kids ages 9-14 from around the world compete in this league.
After 5 months of hard work and dedicated parent coaching, Cambridge's two teams: Griffin Warriors and Abrick Cadabrick, competed in regional qualifying competitions in early November. This year's theme was "Animal Allies," where students explored how humans and animals can work together for mutual benefit.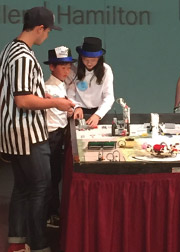 FLL tournament competition takes place in 4 areas:
1. Core Values:
The FLL Core Values are the cornerstones of the program. It is demonstrated through effective teamwork, gracious professionalism within competition, team spirit, learning together, and FUN!
2. Project:
Research and identify a real-world problem related to the theme, develop a solution and share the solution with community.
3. Robotic Design:
Design, build, program a robot using LEGO MINDSTORMS® technology
4. Robotic Games:
Score points with their robot on a challenging table-top playing field. This is the most exciting and challenging part of FLL.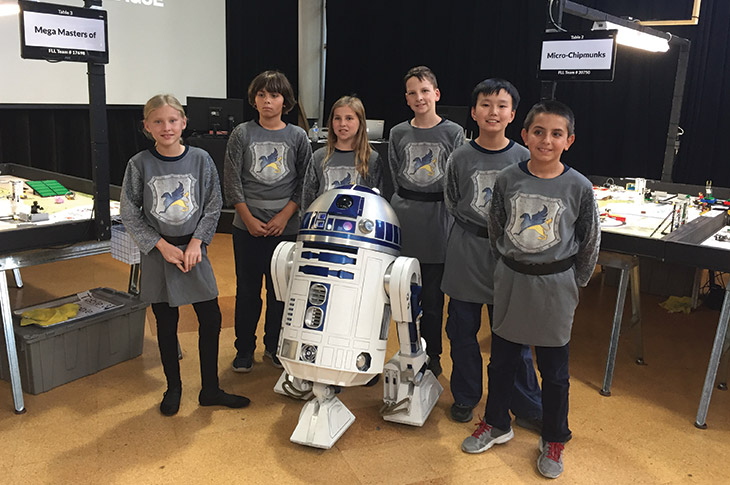 As first year teams, Cambridge had great success amidst fierce competition. Team Griffins Warriors took 3rd place for robotic games with an exceptional 189 points, and will compete again at the SoCal Cup in February. Team Abrick Cadabrick placed 2nd in robotic games and won the Champion award; and both teams will advance to the SoCal Regional Championships on Dec 3-4. The Cambridge Robotics teams were also featured on the local news! However, the greatest lessons learned were in team-building, creativity, and deep commitment to each other while exploring science and robotics. May God use this inaugural experience to grow the hearts and minds of our student community!