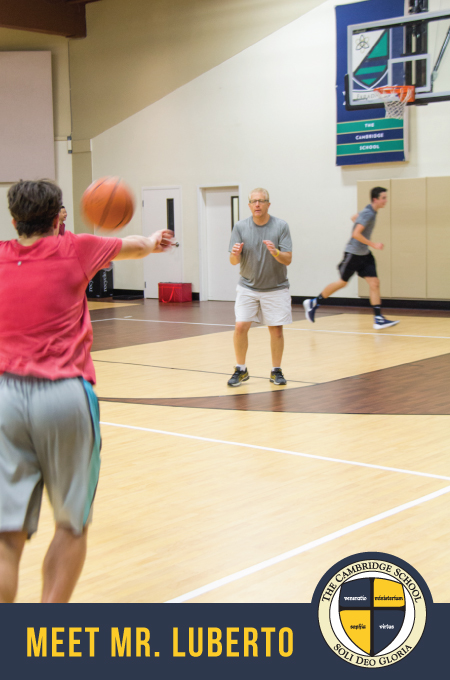 The Cambridge School is excited to welcome Mr. Keith Luberto as the school's new Athletic Director.
Mr. Luberto brings over 25 years of athletic administrative experience to the school, including 16 years of being an athletic director at Christian schools. He also has many years of coaching experience, particularly in high school boys' basketball.
Most recently, he worked as the founding athletic director of Providence Hall High School in Santa Barbara, Calif., which started with 27 students. Mr. Luberto had to work creatively to develop the athletic program there, playing homeschool teams and club teams until the school joined the CIF. In their third year as CIF members, the girls' basketball team at Providence Hall won the CIF championship in front of 5,000 spectators.
Mr. Luberto's love for the game was kindled in 8th grade, when he stopped playing other sports to focus on basketball. He played all the way through high school and some in college, even competing against students who went on to play professionally. Mr. Luberto was in the Navy for four years before completing his college degrees. He received his bachelor's degree from the State University of New York at Old Westbury and his Master's degree in Sports Administration from the University of Texas at Austin.
Mr. Luberto's wife, a graduate of UCSD, moved from San Diego to Texas to marry him and stay with him while he completed his Master's degree. Their plan was to stay in Texas for the two years it would take to get his degree and then move back to San Diego.
It took a little longer than they planned, but 25 years later, they can finally make their home in San Diego.
"This is a great place to live, and I just really feel like God has directed me here to be a part of the Cambridge athletic program," Mr. Luberto said.
Mr. Luberto has already started working with the boys' basketball team at Cambridge, and summer training for girls' basketball and girls' volleyball will begin this week (June 20, 2016).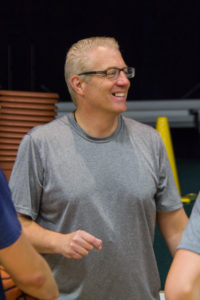 Mr. Luberto's vision for Griffin Athletics is "to honor and glorify God in everything we do." He explained that it is important to work with the other programs at the school to help students balance academics, athletics, and other activities they are involved in. He emphasized working on time management skills.
"You have to make sure you maximize your time," he said. "That's part of my job, to make sure that happens. It's possible to do both (athletics and academics). That will give them a strength and a skill moving on to the next step of life that most kids won't have."
Mr. Luberto has two sons. His older son will finish his senior year of high school in Santa Barbara, Calif., this year while his younger son will join the lead class (11th grade) at Cambridge in the Fall.