Congratulations to both Cambridge robotics teams for their outstanding performance at the FIRST LEGO League (FLL) Southern California Regional Championship Tournament at LEGOLAND in Carlsbad on Dec 3 & Dec 4th. As first year participants, it was a privilege for both teams to qualify for this tournament among over 400 FLL teams from southern California.
FLL competition takes place in a cheerful atmosphere that celebrates robotics building, programming, scientific innovation and teamwork skills. Approximately 24,000 kids ages 9-14 from around the world compete in this league. The tournament includes four categories: Core Values, Project, Robotic Design and Robotic Performance. After five hours of intense competition, awards are then given to the top teams in each category; the teams that excel in all four categories win the Champion Award.
On Saturday, Team Abrick Cadabrick won the Champion award, the highest honor given that day. This award advances them to the FIRST World Championship in Houston, TX on April 19-22, where Abrick Cadabrick will represent Southern California to compete with 108 regional and international champion teams. Abrick Cadabrick also earned a 3rd place trophy in Robotic Performance and Runner-Up for the Global Innovation Award for their Project.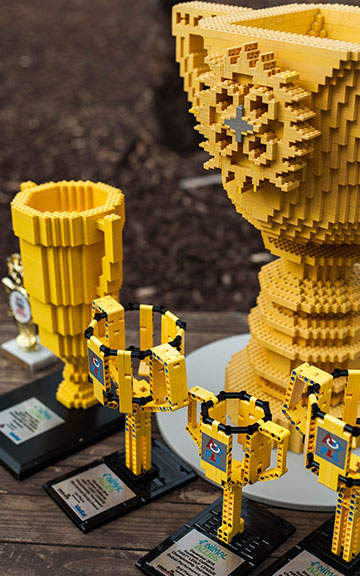 On Sunday our Griffin Warriors also excelled in several categories and was awarded 1st place in Robotic Design-Mechanical Design, and 2nd place in Robotic Performance. Again, for a new robotics team, these were amazing accomplishments!
Congratulations to both teams for representing The Cambridge School well!
Team Abrick Cadabrick: Kyle S, Connor L, Zoe L, Andrew E, Stefan G, Isabella L
Team Griffin Warriors: Eva M , Hudson M, Emma E, Edy F, Tommy F, Anthony S.
Soli Deo Gloria.