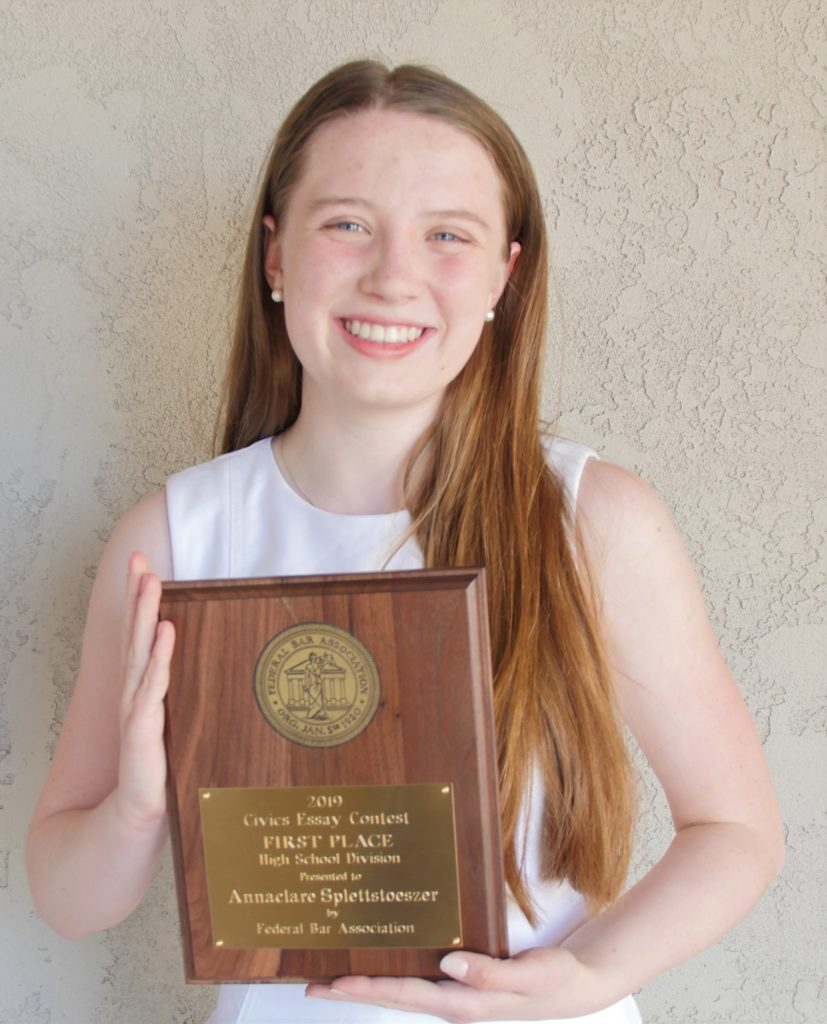 Annaclare Splettstoeszer, a senior at The Cambridge School, traveled to Washington, DC, last week to receive an award for her outstanding essay on "Cyberbullying and the First Amendment." The 2019 Civics Essay Contest was sponsored by the Federal Bar Association, the premier bar association serving the federal practitioner and judiciary, and Annaclare's essay won First Place in the High School Division among hundreds of submissions from across the country.
Associate Justice Neil M. Gorsuch presented the award to Annaclare on March 22, 2019, at a ceremony at the United States Supreme Court Building. Annaclare was one of only two students invited to this award ceremony. She and her parents, Todd and Bernadine Splettstoeszer, were given a private tour of the U.S. Supreme Court Building. In addition to an invitation to this award ceremony, Annaclare received a scholarship prize of $1,500.
Standing at the podium where countless attorneys have presented their arguments in monumental cases like Brown v. Board of Education (1954), Miranda v. Arizona (1966), and Roe v. Wade (1973), Annaclare was fully aware of the magnitude of where she stood. "I couldn't help but be stand there in awe at the thought of the multitude of stories that found their endings and their beginnings where I stood." The nine-member United States Supreme Court is the highest court in the Judicial Branch of the American government, and its decisions are the supreme law of the land.
A senior at The Cambridge School, Annaclare is the team captain of the school's Speech and Debate Team. She represented Cambridge at the 2018 California State Tournament in Public Forum Debate and will return this May for the 2019 California State Tournament in Impromptu Speech.
As the youngest (but not newest) member of the U.S. Supreme Court, Associate Justice Gorsuch figures to be on the Supreme Court for many years to come. When asked what aspirations she may have to study law and perhaps even argue before Associate Justice Gorsuch in the Supreme Court someday, Annaclare answered, "I would consider it a great honor to be another gear in our democracy's constant turning. Each person that I met at the reception, whether they were a federal judge or a federal prosecutor, was proud of their work, and I know I could certainly feel the same way."
The Cambridge School is a classical Christian school in the Rancho Penasquitos area of San Diego. Established in 2006, it serves Junior Kindergarten through 12th grade students. To learn more about The Cambridge School and its mission to prepare the next generation to think well, love rightly, and live wisely, please visit www.cambridgeclassical.org.