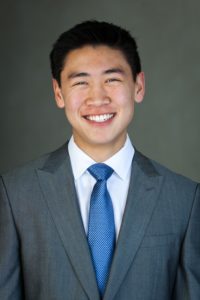 The Cambridge School—a classical Christian school in the Rancho Penasquitos area of San Diego–is pleased to announce one of its juniors, Joshua Kim, received the highly-selective Coolidge Scholarship. The Coolidge Scholarship is among the most generous merit-based scholarships in America. This full-ride, non-partisan merit award covers a student's tuition, room and board for four years of undergraduate study. The Coolidge Scholarship is one of only a few full-ride scholarships which may be used by recipients at any accredited college or university in the United States.
Established by the Coolidge Foundation to honor America's 30th president, The Coolidge Scholarship elevates the values for which President Coolidge stood. Coolidge Scholars, distinguished by academic merit, are chosen in a multi-stage process starting with over 2500 applicants who are reviewed by the Coolidge Foundation. Ten finalists were flown in for a finalist weekend at the Coolidge Historic Site in Plymouth Notch, Vermont and interviewed by the Coolidge Scholars finalist jury chaired by Dr. Bruce Cole, former Chairman of the National Endowment for the Humanities.
Joshua remarked, "I'm truly honored to have been named a Coolidge Scholar.  It was a difficult and nerve-racking experience, but one that was well-worth it. I'm thankful for my parents, my teachers, my peers and the intellectually and morally formative nature of my classical education, specifically my Logic and Rhetoric classes which have prepared me well for an opportunity like this."
The Cambridge School's distinctive way of educating students forms them to think well and live humbly and wisely in service of others. Cambridge is pleased that these virtues align with the Coolidge Scholars criteria of hard work in academics, humility, service, and leadership. The Cambridge School is honored to have one of their students receive such a significant and competitive scholarship that recognizes and rewards both character and academic achievement. For a school that has yet to graduate a single senior (the first class will graduate in 2018), this serves as a great encouragement to the entire Cambridge School community and as an affirmation that this young and growing school is fulfilling its mission and vision. For more information about the Coolidge scholarship visit coolidgescholars.org.
Watch the ABC 10 feature