Soli Deo Gloria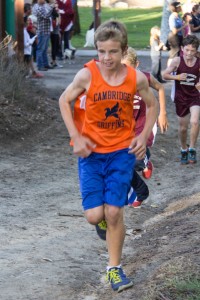 The Cambridge School Cross Country Team finished a stellar 2014 season, with the boys winning the IMSL (Intermediate Middle School League) team championship, and the girls taking 2nd place! We had numerous individual medalists in each of the five meets, which is not surprising given the level of training and preparation that our athletes displayed throughout the season in everything from their nutrition, hydration and sleep, to intense intervals, hill training and circuit training.
More important than the meet results and trophies, however, was the character, teamwork, and discipline that all of our athletes displayed and experienced together. There is nothing like being pushed to your limits with the help, support, and encouragement from your coaches and teammates all there to be their best. Each athlete improved considerably in their personal fitness, confidence, and understanding of the relationship between their minds, bodies, and souls.
In addition to acknowledging the team's results before the entire school community last week, we also presented the inaugural "Eric Liddell Award" to the team's runner of the year embodying all that our school and athletics program represent. The recipient received a baton, that they will then pass off to next year's recipient in what should prove to be yet another coveted tradition of The Cambridge School experience.
Soli Deo Gloria!